navel is a social robot of the next generation
What makes navel special?
Through the interplay of deep tech and innovative interaction design, navel has unique social capabilities and offers a new form of user experience.
Simply enjoy the presence of the sympathetic robot figure navel and don't worry about how navel has to be "operated". Because navel communicates with you in a completely natural way.
The ZDF program TerraXplore has broadcast a report on artificial empathy. The following video is a summary. In it, Navel is interviewed by presenter Jasmina. In the second half, Navel can be seen carrying out tests in a nursing home. You can watch the full report in the ZDF media library (in German only).
a gaze says more
than 1000 words
In which fields can navel be used?
As a research robot, navel enables research into new methods in social human-robot interaction.
As a service robot, e.g. in retail, navel arouses sympathy and at the same time offers helpful information and services.
As a care robot, navel autonomously activates people in need of care, increases their well-being and relieves caregivers.
This makes navel different from other social robots
Computing power
Communication
Eye contact
Liveliness
Autonomy
Privacy
Computing power
navel has 10 times the computing power of comparable robots.
The latest generation of NVIDIA edge devices, which are also used for autonomous driving, run neural networks and algorithms for computer vision and sound processing in real time.
On this platform, navel with its clever software architecture can process twice as many signals at five times the rate of Pepper, for example.
The result is a very lively and unique empathic behaviour that makes navel so likeable.
Communication
Eye contact
Liveliness
Autonomy
Privacy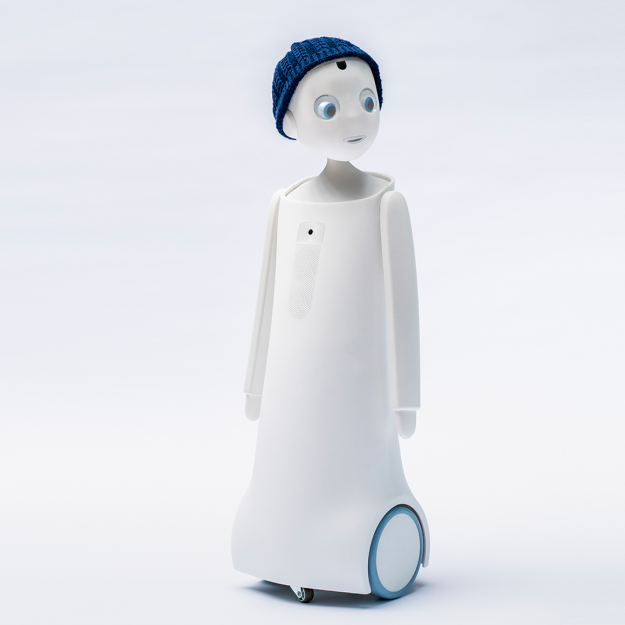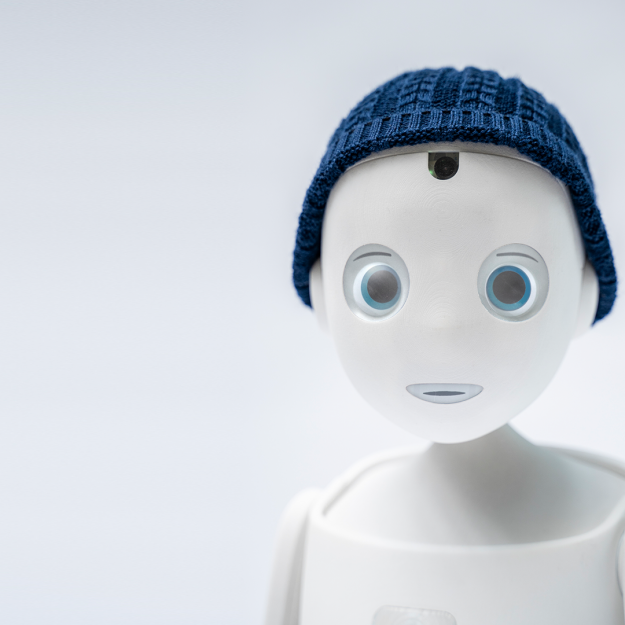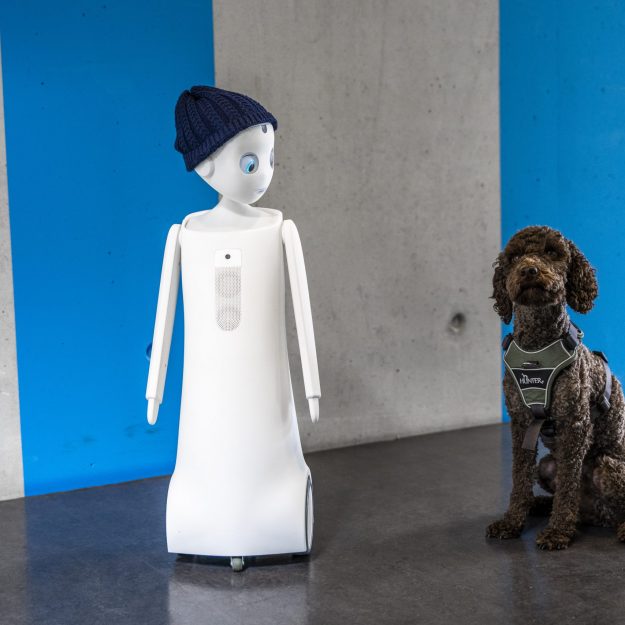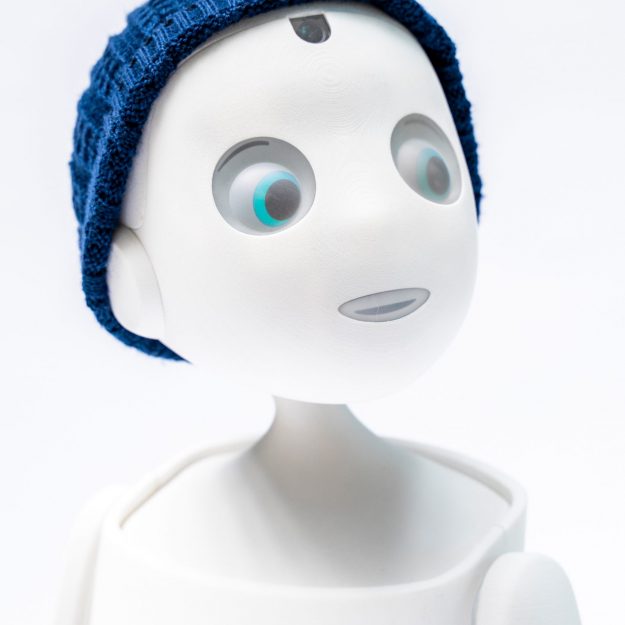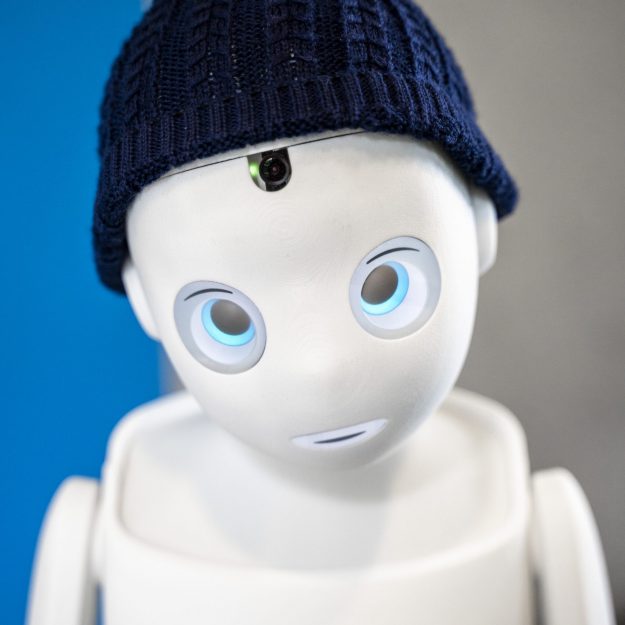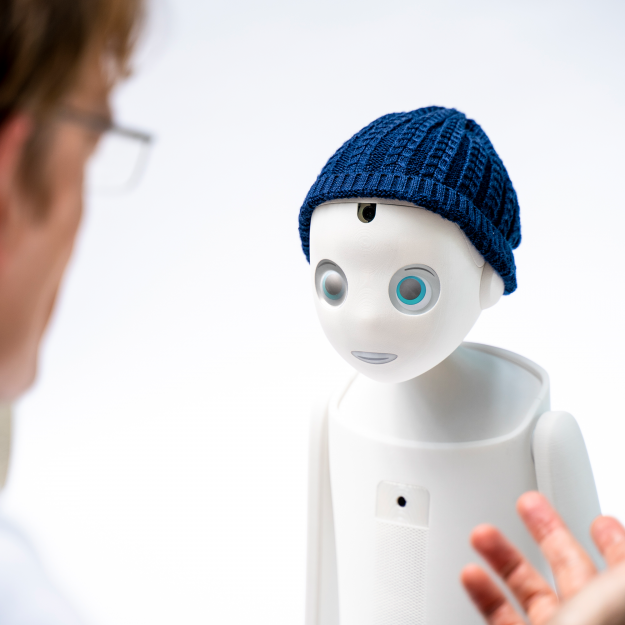 for your specific requirement
Researchers and developers get full access to all navel's capabilities:
Python SDK to program custom behaviour with direct access to all functions
– all high- and low-level data
– video and audio streams
– all actuators (locomotion, head and arm movement, voice output, …)
– RASA Dialog Manager (pre-installed) to control non-verbal behaviour
Browser application to control the robot without programming
– for quick Wizard-of-Oz tests
– Basic emotions, gestures and sequences
– own libraries can be created
For questions and orders please contact us.
In the service and marketing area, navel uses its social skills to win and serve customers for you.
You get a simple web application that allows you to easily customise the interactions and content yourself.
We work with established distributors who can help you integrate it into your use case.
If you are interested in participating in the next pilot projects, please contact us.
Due to his high social skills, navel can emotionally and cognitively activate people in need of care. It independently offers interventions such as activating questions, games, jokes and more.
With its many sensors and enormous computing power, navel can do this completely autonomously and empathically, without caregivers having to take care of it additionally. In this way, navel relieves caregivers and can offer additional individual interventions in parallel to the caregiver and provide variety.
If you are interested in participating in navel care pilot projects from 2023, please contact us.
OS
Linux
Computer Vision (10fps)
Face detection
Person identification
Emotion recognition
Head pose
Eye gaze
Sound Processing
Sound source localization
Beam forming
Natural Language Processing
STT: Google ASR
TTS: Acapela (30 languages)
Dialog Manager: RASA, GPT
Navigation
SLAM
Socially aware proxemics
SDK
Python SDK

SoC
NVIDIA® Jetson AGX Xavier™
15 GB for user data
Cameras
Head: 80° 720P 60 fps Global Shutter
Body: 160° 720P 60 fps Global Shutter
Microfones
3D array comprised of 7 microfones
3D Sensors
Intel® RealSense™ Depth Module D430
2x Lidar sensors
3x Sonar sensors
Displays
3x Round displays
3x 3d lenses
Motors
Head: 3x quiet gimbal motors
Drive: 2x 65 W motors
Shoulder: 2x Servo motors
Tilt: 2x linear motors
Speaker
2x 4 W Broadband loudspeaker 
Battery
288 Wh Li-Ion Batteries
Connectivity
LAN
WLAN
Size
Height 72 cm
Weight
8 kg
Cap
Wool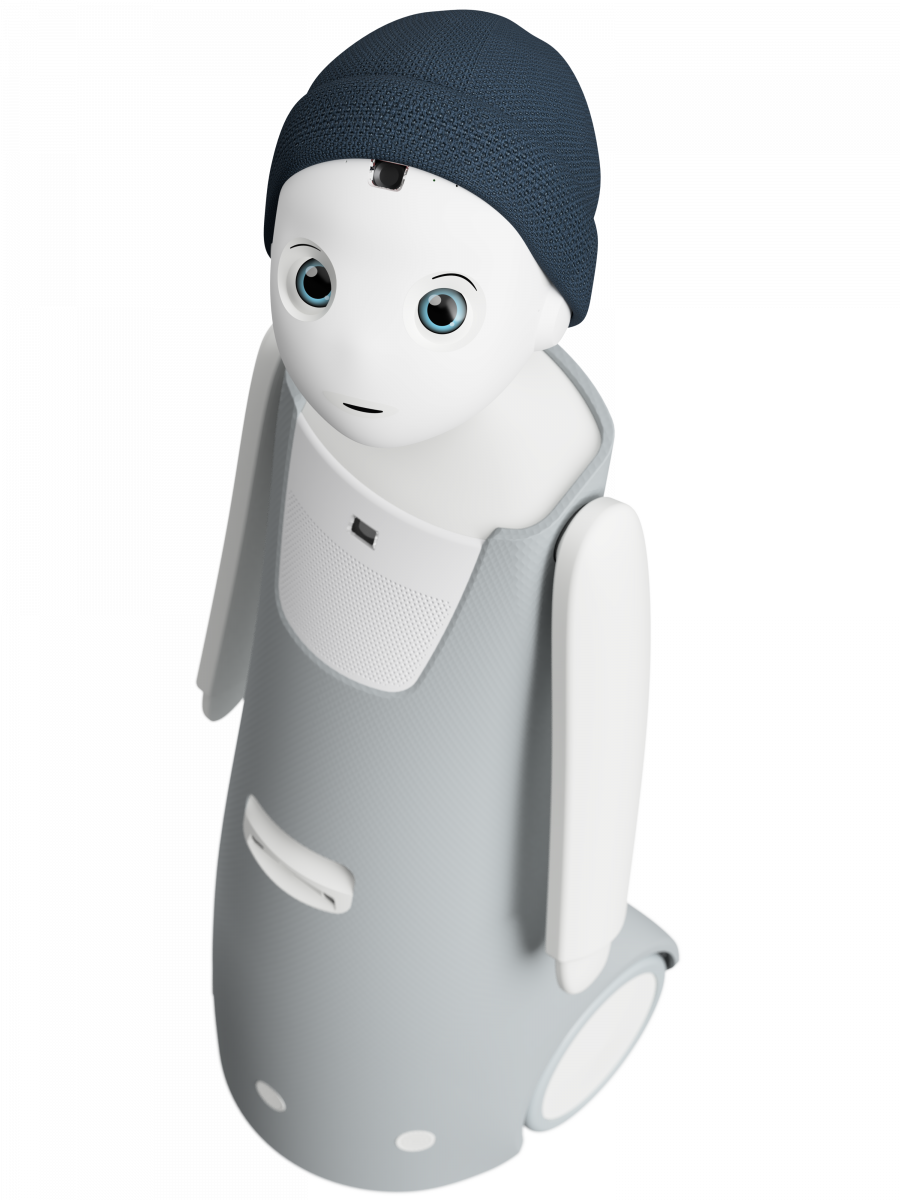 Please contact us for questions or a quote